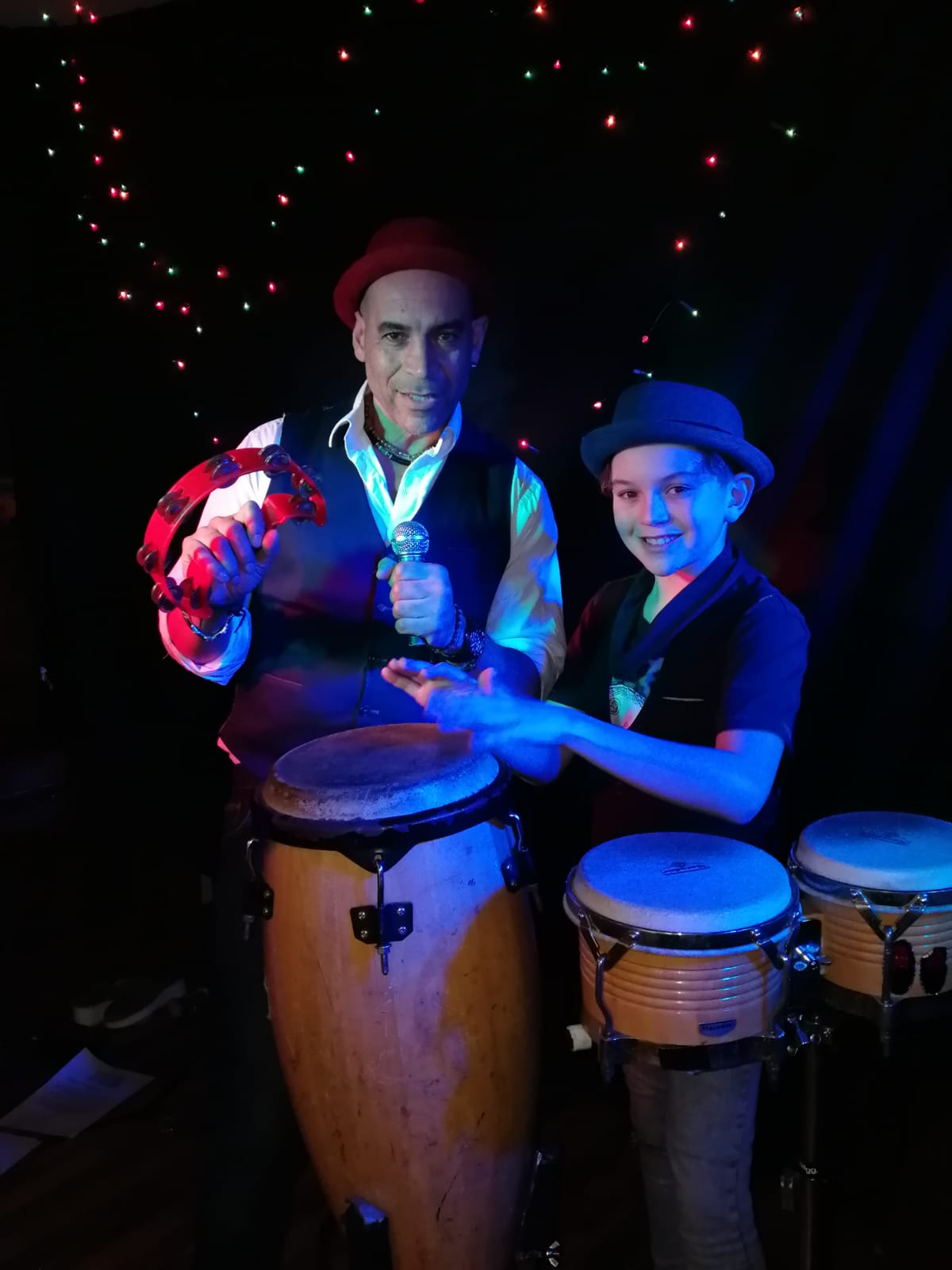 Soul Singer, Wedding, Parties & Functions. Available in Norfolk, Suffolk, Essex and through out the UK.
Mark Anthony has performed over 140 gigs a year for the past 25 years due to his popularity. From corporate events, weddings, garden parties, clubs and pubs across Norfolk, Suffolk, Essex and through out the UK.
Mark is a very talented singer and entertainer and covers soul, jazz, Motown, disco, swing and reggae music, he also plays a variety of percussion instruments; including, bongos and conga drums. Mark cleverly combines these two elements of his talent into every live set, giving him the unique and exciting style he´s become famous for.
Mark's powerful, soulful voice has enabled him to work in a wide variety of areas. As well as a solo career spanning 25 years he has supported Kool and the Gang at London´s Hammersmith Apollo, Desmond Decker, Alexander O´Neal and many more.
In his solo appearances, Mark performs with self-produced backing tracks and live percussion; including his famous bongos! This unique mix of percussion and voice is what gets everyone on their feet and dancing! Nobody does it quite like Mark!
Mark and his son Issac
Mark and his son Isaac have teamed up as a dynamic duo and have performed in some of the worlds prestigious venues including The Hard Rock cafe, The House of blues Orlando and BB Kings blues bar international drive USA. Their performance together forms a unique bond as father and son mixing chart topping hits from 50's to present day.
At such a young age Isaac is a true inspiration to the younger generation. Book these two and you won't be disappointed.
Acting
Mark made his acting debut in 2008, appearing in the musical theatre production of Buddy - the Buddy Holly Story.
Since then, Mark has appeared in the hit Broadway stage show, The Full Monty, and was so successful in his portrayal of the part of Noah ' Horse ' T Simmons that he was asked to play the same role again in three other theatre shows in the UK.
Other principle theatre rolls have included Sweet charity as well as his own self written tribute show 'Unforgettable' The Nat King Cole story.
TV
Mark is also no stranger to TV. In 2004, he beat 31,000 other hopefuls to appear on ITV's Stars In Their Eyes, impersonating Lou Bega and singing his hit song Mambo No 5. This episode was watched by an estimated 8 million viewers.
Not only has Mark performed all over the UK, the Channel Islands and the Canary Islands, he's also toured Holland and Germany and Austria.
Why not hire Mark for your event?
Mark is available to perform at private parties and corporate events. Due to years of experience in pubs, clubs and at festivals, he's an expert in getting people onto the dance floor! You can choose from a 1 hour set, 2 sets of 1 hour each or 3 sets of 45 minutes depending on your budget, Mark can cover it all.
Whether you're hiring Mark as a solo performer or as a duo with his son Isaac or with his full band 'The Funky Stuff,' you're in for a fantastic night. Mark gives 100% to every performance and passes on a happy, feel-good vibe to everyone in the room.
To enquire about booking Mark or The Funky Stuff for your party or event, please email mark@markanthonybongoman.com or call Judy on +44 (0)1502 476 384 or 07966 366079.